New York is one of our most popular (and favorite) destinations! Every reason is a good reason to go and explore this wonderful metropolis, where so much of the world seem to always be happening. During our last trip in the Big Apple, we had the chance to try out some amazing new restaurants! From hidden gems in Brooklyn to high-end gastronomic addresses at the heart of Manhattan, discover 4 new favorite restaurants with Lartisien!
Clover Hill, Brooklyn Heights
Where is Clover Hill located?
To begin excursion into New York's culinary scene, we are taking you to a quiet, intimate little spot over in Brooklyn, just off the iconic eponymous bridge, less than 10 minutes away from the Casa Cipriani New York. Though located on Main Street itself, you'd be forgiven for walking by this lovely address without looking twice at it. It's tucked away between the 19th-century redbrick facades of a realty office and a hair salon, sporting a modest (yet beautiful, and dare we even say, cute) front of dark green wood and glass which gives an immediate view of the warm and inviting interiors. Clover Hill is as unassuming as it is good, meaning this is one of those real hidden gems you are always hearing about.
About Clover Hill
Clover Hill initially started its culinary journey back in 2019, however the pandemic had quickly brought down any hope of a successful debut for this project, led by restaurateurs Clay Castillo and Gabriel Marino. Luckily though, during the pandemic, the duo met Executive Chef Charlie Mitchell, who -with his experience working at such addresses as One White Street in Tribeca and the 3-Michelin-starred Eleven Madison Park-helped steer the Clover Hill into a new direction, and indeed to success.
When the 34-seater re-launched in 2021 and a menu that blends American and French cuisine, Clover Hill embarked on a path to become an instant classic. Presented to a high degree of refinement and served within a gorgeous vintage setting of white-painted clay bricks, dark wood panels and furniture, the tasteful, modern decoration fits perfectly into the neighborhood's residential feel. The restaurant rivals Manhattan's top-of-the-line addresses with a curated menu and more approachable, accessible prices for the local community.
Opening Hours:
Mon – Tue: Closed
Wed – Fri: 18h00 to 22h00
Sat: 11h00 to 15h00, 18h00 to 22h00
Sun: 11h00 to 15h00
Our Menu Favourites:
Entrée: Hen Egg – Farro, Shitake, Sherry Sabayon
Main: Ricotta Dumplings – Fava bean, Spring pea, Herb buttermilk
Dessert: Pistachio Madeleines – Diplomat Cream
Le Pavillon, Diamond District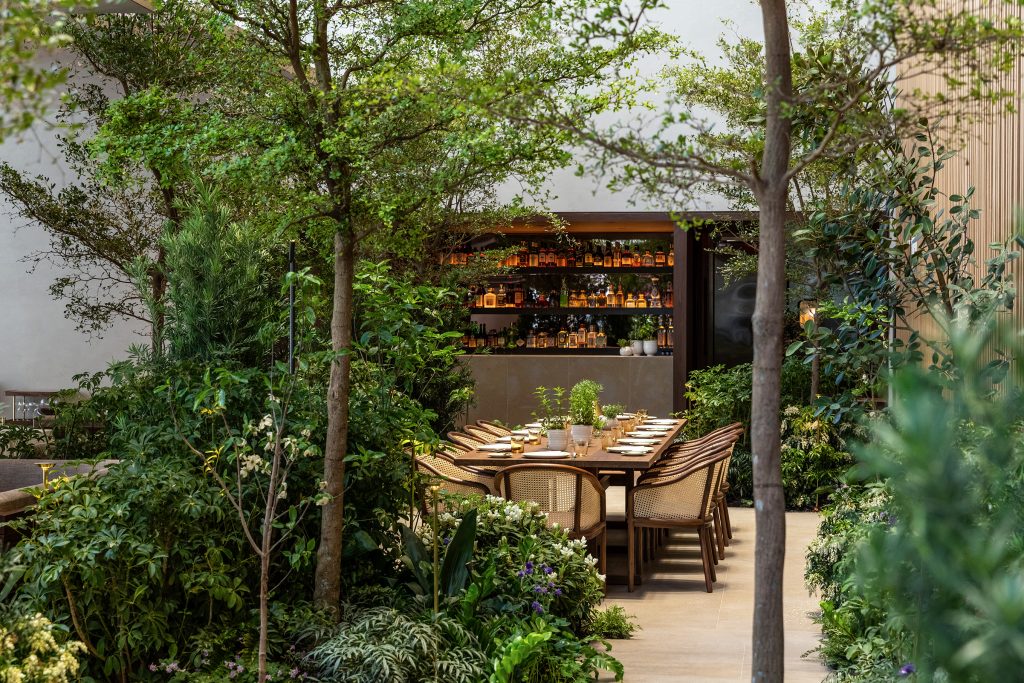 Where is Le Pavillon Located?
Located at the heart of Midtown Manhattan, minutes away from all the most popular New York landmarks, such as the Empire State Building, and the Art Deco icon Chrysler Building, as well as addresses such as the Baccarat Hotel & Residences New York and the St. Regis New York, Le Pavilion by Michelin-starred Chef Daniel Boulud is ideally placed to benefit from the ever-growing crowds of the city. However, while a lesser restaurant would have simply relied on being in the One Vanderbilt building to guarantee a decent influx of clients, Le Pavillon went all out trying to give the people of New York a little sanctuary of peace and quiet in the midst of all the madness.
About Le Pavillon
Named after a Manhattan-French restaurant from the 1940s -one which debuted at the 1939 New York World's Fair- Chef Boulud wanted the interiors of Le Pavillon to be in total contrast to the outside scenery. Within a setting of overgrown greenery (which also serves the purpose of separating the tables) and a surrounding of smooth white wood and warm, atmospheric lighting to complement the natural light let in through the large windows, the restaurant almost feels a bit like a spa. It is quiet, yet never cold or detached.
There is a serenity that resonates throughout the place, making it the perfect destination for those who either want to enjoy the Mediterranean/French seafood-focused menu by themselves or even with a small group. In the words of Daniel Boulud himself, who often comes out to greet his patrons and have a chat, (we even got an invitation to check out his Michelin-starred Daniel, but that is a story for another time) the goal was "to create an oasis of peace and harmony…" That is exactly what Le Pavillon is.
Opening Hours:
Sat, Mon: 16h30 to 23h30
Tue – Fri: 12h00 to 14h00, 16h30 to 23h30
Sun: Closed
Our Menu Favourites:
Entrée: Wood-fried Octopus
Main: Grilled Black Bass
Dessert: Rhubarb Pavlova
Cosme, Flatiron District
Where is Cosme Located?
For this next address, prepare to have your taste buds experience a veritable culinary journey, for the menu of Cosme was created by none other than the Mexican Michelin-starred mastermind, Enrique Olvera! Expertly brought to life by Chef de Cuisine Gustavo Garnica, the menu of Cosme is the reason why you are going to this New York address.
Located in the Flatiron District, minutes away from the quaint Crosby Street Hotel and plenty of other culinary outlets, Cosme isn't going to win any award for its interior design (which seems to serve only as a vehicle for its cuisine, and that was perfectly fine by us). The atmosphere is mostly going to be fueled by a varied crowd, from your couples trying to stick to their anniversary schedule to the fashion people who want to have a bit of happiness before going back to crackers and salads, to families and friends out for a good time. The strength of Cosme is, first and foremost, the food. The Mexican food… but not just!
About Cosme
Indeed, to say that Cosme makes Mexican food would be like saying Martin Scorsese makes good films. Meaning, it is a gross understatement! There is something else, something elevated, something close to an art form that is being produced and yet, at its core, it is what it is: Mexican food.
Here, dishes are paired with wine from Rueda and each recipe is a call back to a traditional Mexican dish that's been given a breath of fresh air. It's a little twist that will make you frown when you first see it in your plate and open your eyes wide in surprise as soon as you've taken your first bite. At Cosme, Olvera and his team are redefining our understanding of Mexican cuisine and we cannot wait for more people to discover the goodness of it all. The buzz is absolutely worth it!
Opening Hours:
Mon – Friday: 17h30 to 22h00
Sat – Sun: 12h00 to 15h00, 17h30 to 22h00
Our Menu Favourites:
Entrée: Scallop, yellow pepper, oro blanco aguachile
Main: Duck carnitas, onions, radishes, cilantro
Dessert: Black sesame tamal, caramel, palanqueta
Wayan, Nolita
Where is Wayan Located?
Our final restaurant is both a surprise and not a surprise, because the chef of Wayan (located in the charming area of Nolita in Manhattan, less than 10 minutes from the Robert De Niro-owned The Greenwich Hotel) is Cédric Vongerichten, the son of the none other than one of the most celebrated chefs on the surface of the Earth, Jean-Georges Vongerichten. On one hand, one could easily look at Wayan and think that they shouldn't expect anything less from Chef Cédric, who grew up around high gastronomy all his life… but on the other hand, we couldn't help but be delighted to see the man deliver such a strong solo debut, with a menu that is both complex and heart-warming. Mixing South Asian and French flavors, the food of Wayan offers a wide spectrum of tastes and texture, all beautifully presented, in a setting that is heavily inspired by Indonesia.
About Wayan
Wayan feels like a friendly neighborhood address where you can always expect good food and good ambiance! From the décor of teak panels, exposed bricks, plants all over the place (an interior that would instantly carry you to some address in Thailand or Bali) to the delicious food, to the staff and owners who are always smiling and pleasant, Cédric not only delivered in terms of cuisine, but managed to infuse Wayan with a sense of personality that is so welcoming and easy, that we cannot help but recommend it.
Opening Hours:
Mon – Fri: 12h00 to 15h30, 17h30 to 23h00
Sat: 11h30 to 15h30, 17h00 to 23h00
Sun: 11h30 to 15h00, 17h00 to 23h00
Our Menu Favourites:
Entrée: Satay selection, we recommend the chicken, lamb, and scallops Main: Octopus a la Plancha, Yellow Rice
Dessert: Coconut Bowl
We had a great time getting to experience the hottest new restaurants in NYC right now. Looking for a great location to stay in? Explore our New York hotel collection!