Now, last time, we told you about how a break in the city can be as good as it is in the countryside but country breaks are still a classic for a reason! These destinations are your opportunity to not only cut off from the routine, but also to completely immerse yourself in a different environment and pace altogether. The experience can be transformative… a chance to discover so much about the place you're visiting, but also about yourself!
And in the French countryside, these are our favorite places to go for a break!
Hôtel Chais Monnet & Spa, Cognac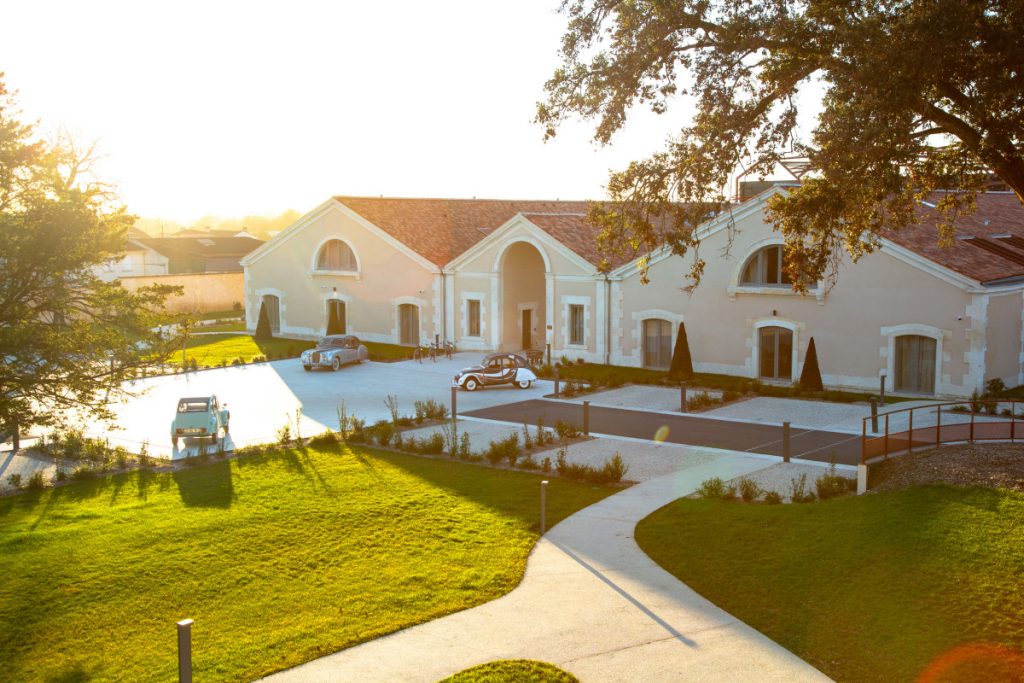 Now, for our first destination, you better brush up on your spirits and eau-de-vie knowledge for we are taking you to a commune that's a dream destination of every brandy amateur in the world!
Found at the heart of a two-hectare estate in the middle of Cognac, Hôtel Chais Monnet & Spa has been one of the city's prides since 1838. The place is an ode to an architecture and lifestyle that is "à la Francaise", inviting you to step into an environment that blends elegance and refinement with the profound sense of warmth and comfort that can only be experienced in the country. The hotel's distinct blend of industrial design and contemporary aesthetics, courtesy of Didier Poignant, pays homage to its heritage, but also embraces all the comfort of modernity. And the Jazz bar "Le 1838" is perhaps the ideal place to relish some of the town's famously eponymous brandy.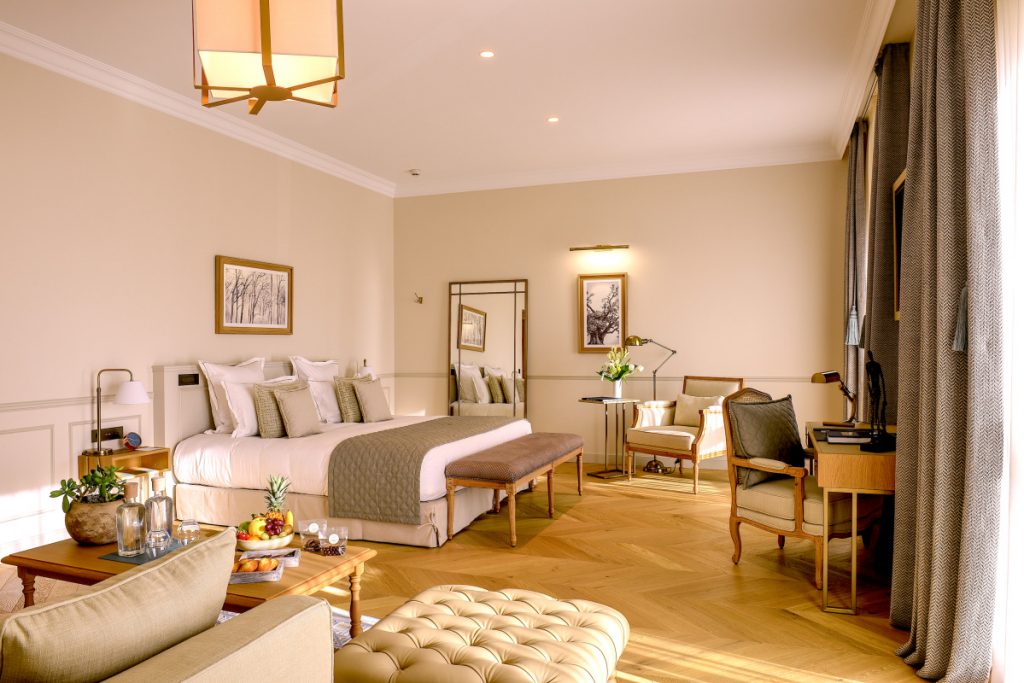 Though the commune deserves ample time to be explored and enjoyed, you could very well see yourself waking up and deciding to spend the entire day at the hotel, taking in the beauty of the place and the atmosphere and not feel like you've wasted the day away.
Les Prés d'Eugénie, Eugénie-les-Bains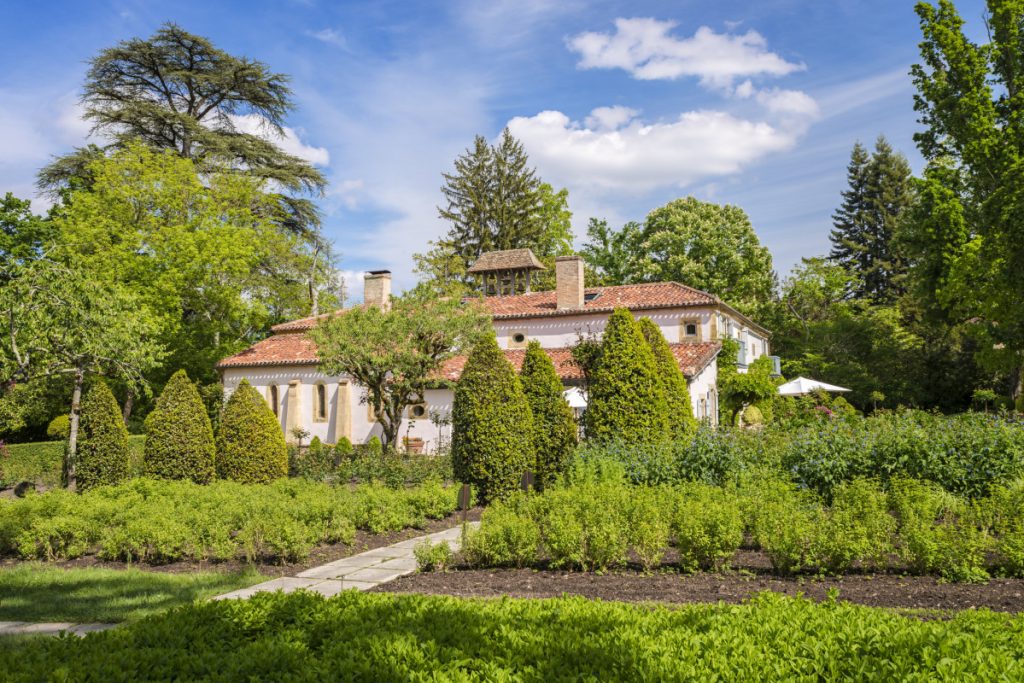 Located in the southwest of France, one would have no reason to think of Eugénie-les-Bains as being a particularly great destination, but as history shows, it is! Indeed, the place was one of the favorite resting spots for royals on their way to Biarritz, including Henry IV and Eugenie de Montijo – the Spanish empress after whom the commune is named.
Popular for its thermal spots, the area is, today, mostly known as being home to numerous spa resorts and being the birthplace of cuisine minceur, but not much besides that. But perhaps… that is exactly what we need! Sometimes, too many options become a chore and a stress. Imagine waking up in the morning with nothing planned ahead. You have your breakfast outside on a beautiful rustic porch area, with views over the flower garden, and later on, you go for a walk and take a sit on the small, wooden bench under the shade of a tree to enjoy a good book, and before you know it, it's time for your massage at the spa. Wouldn't that be nice?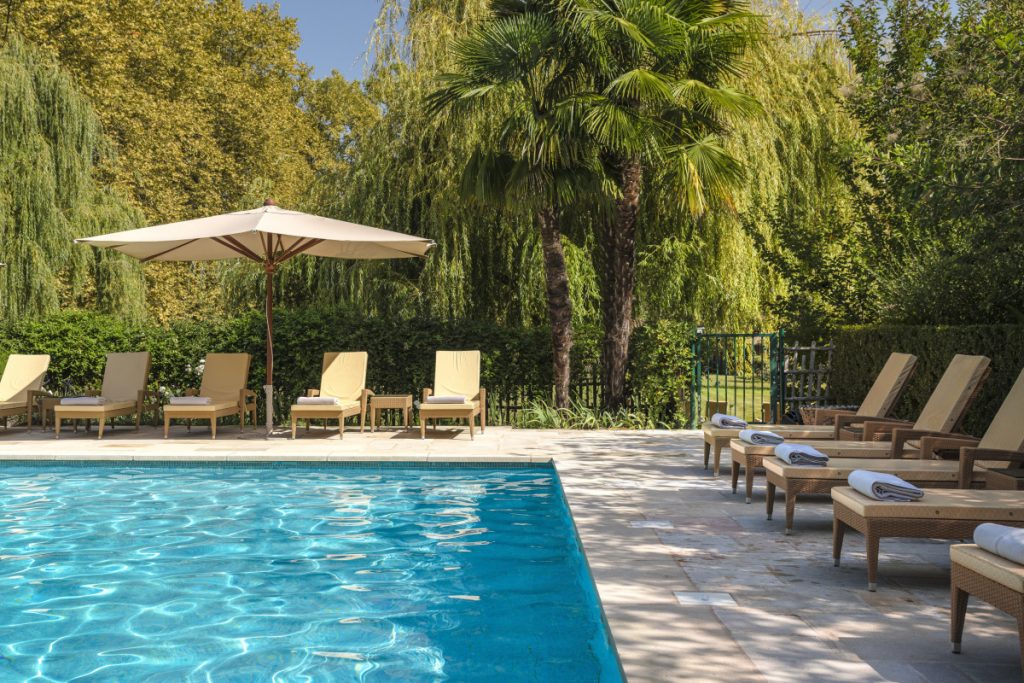 So, when you are given a breathtaking 19th-century villa where you can simply relax, enjoy some rustic charms and a slow-paced lifestyle – including an incredible spa experience and 3-Michelin-starred gustatory exploration that you won't be forgetting anytime soon – we feel like this might just be the kind of countryside break that we all desire to experience at least once in our lifetime.
Yes, there won't be much to do… but then again, you won't need much to do!
Airelles, La Bastide de Gordes, Gordes
Our next destination should satisfy those who long to escape to fantastic worlds, full of beauty and magic, for we are taking you to what is essentially the Minas Tirith of our world… Gordes!
Cascading the slopes of Luberon, in Provencal France, the commune is a scattering of whitewashed medieval houses and buildings dating back to medieval period, and perched atop a high cliff, overlooking it all, sits Airelles, La Bastide de Gordes. An 18th-century château of dry-stone walls that houses century-old olive and cypress trees, manicured terraced gardens, and probably more antique and period decorations that you would find in any other hotel, this Airelles property is all about transporting you to a setting that you wouldn't experience anywhere else. Even the staff wear period-appropriate uniform and costumes, and those are the kind of details that truly allow for an immersive sojourn at a hotel… especially when you pass by them in the corridors or at the restaurant and they smile one of their charming smiles and bow their head a little.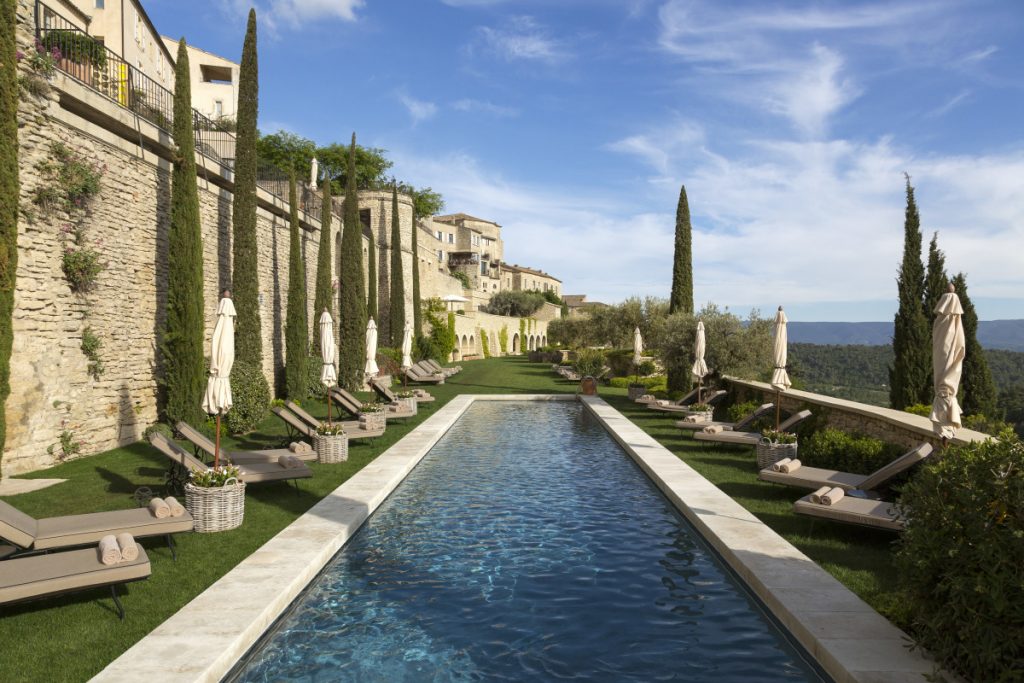 But of course, what makes Airelles La Bastide unique is the setting, so once you've taken in enough of the hotel for the day, go out, wander the slopping streets, visit the caves, the churches, the artisanal (and luxury) boutiques, visit the marketplace and the restaurants, and feel like a time-traveler altogether!
Terre Blanche Hôtel Spa Golf Resort, Tourrettes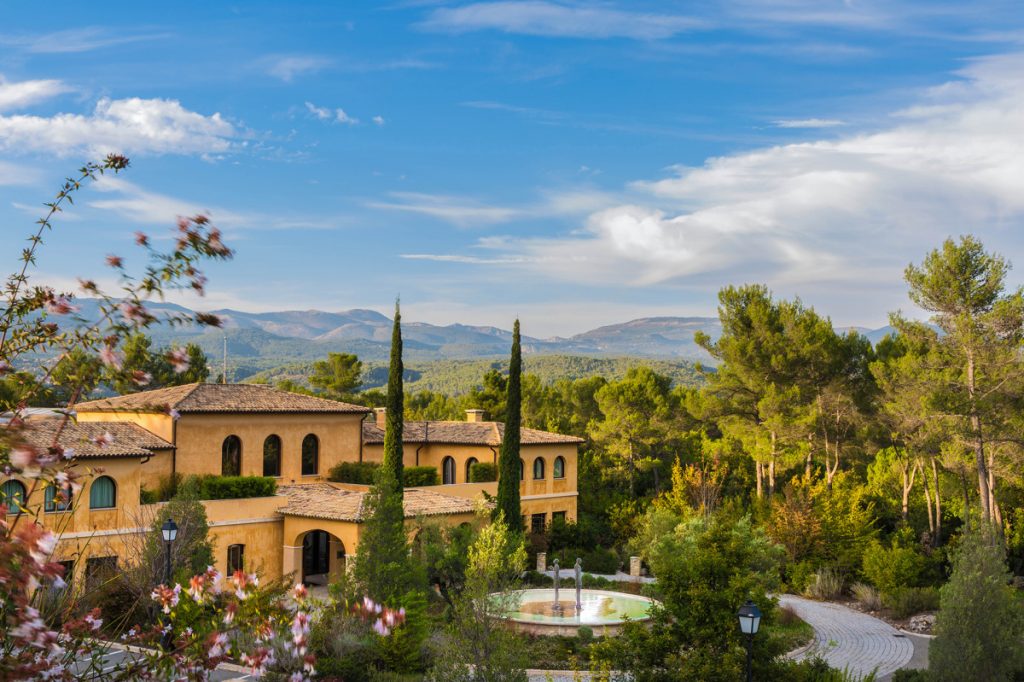 And finally, staying in the southeastern region of France, Tourrettes seems like a typical French Riviera commune until you actually set foot there, and realize just how beautiful it all really is. In addition to its unique concept of open-air museum with artwork and painting visible on every street in town, Tourettes is surrounded by a sea of greenery, basking in the golden sunlight for 300 days a year. And in the middle of it all is Terre Blanche Hôtel Spa Golf Resort.
Though the resort does boast two exceptional golf courses (Le Château and Le Riou) and those alone might be worth the trip, once you get there, you'll discover a pastoral setting that rivals those of Tuscany. Sweeping moors with patches of forests, overwhelming mountains and deep valleys, and in the distance, less than an hour away, the waters of the Mediterranean.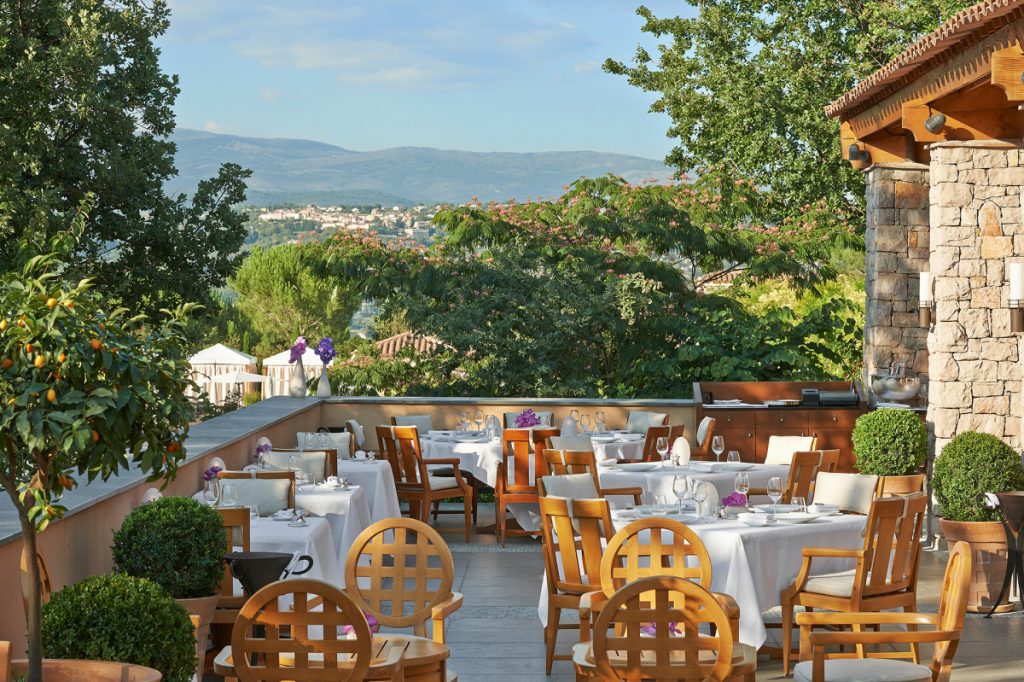 The resort itself puts eco-responsibility above all else, and so the philosophy transpires through everything, whether it is the design, the service, the dining, and of course, its exquisite 3200m2 spa that's found at the heart of fragrant gardens and ancient trees. Now, if that's not a countryside break, we don't know what is!
For more travel ideas and hotel showcases, stay tuned! You can also follow us on Instagram.