London is home to a number of neighborhoods and districts that are each more emblematic than the other, each possessing a unique quality and ambiance that define a facet of the city. However, London is also a city of traditions, and the one place that forever remains its ambassador for whenever it needs to impress is… the one and only Mayfair. And what an impression it makes!

Every time we've been to London, at some point during the trip, we always found themselves converging towards the district. Whether it's to come back to a familiar spot or to discover new addresses, for us, Mayfair feels like a living, breathing organism. And one of the ways through which the district continues to attract so much attention is its dynamic culinary landscape. So, join us to discover our top 3 restaurants of Mayfair, and who knows… maybe your next favorite spot in the city!
Sexy Fish
We begin with a bang! Sexy Fish, located on the corner of Berkeley Square, somehow represents the very spirit of modern Mayfair. With just the right dose of exuberance, the restaurant is the ideal place for your first night in the city. Dark, yet colorful, and with the DJ blasting the music just loud enough so you don't have to hear the people around you, you'd almost expect a John Wick-type hero to come barging in at some point, to catch up with the villain. That never happened, while we were there, which was quite disappointing.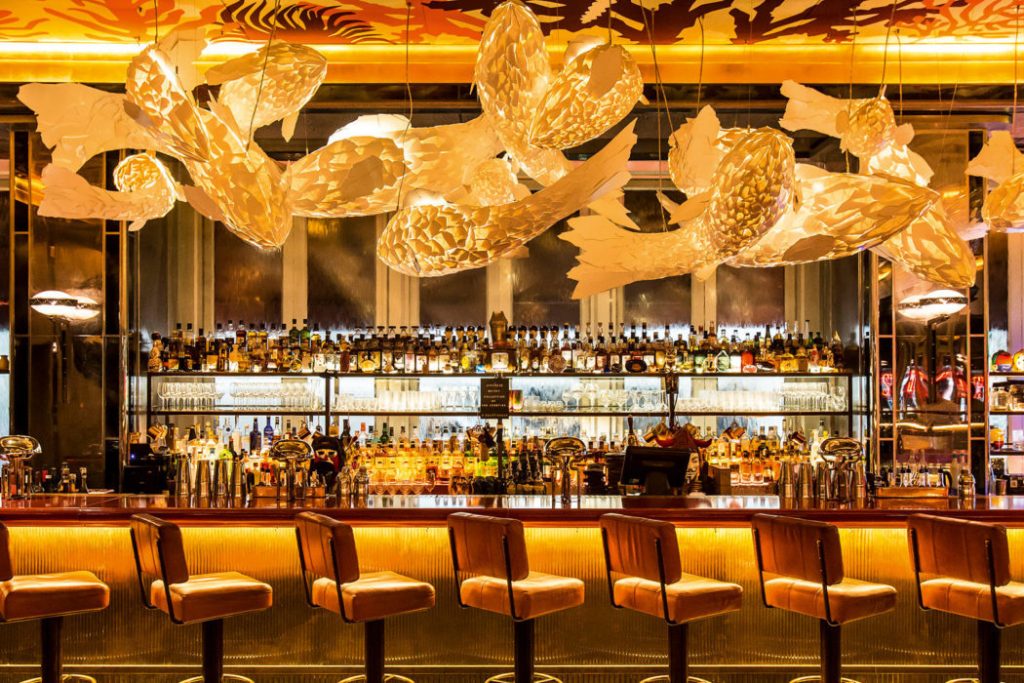 What wasn't disappointing on the other hand was the mouth-watering Asian-inspired menu! With a selection of Japanese-sushi, sashimi, and meat dishes cooked on a Robata grill, the food is flavorful and varied, which makes it great for sharing! Additionally, the bar has the world's biggest collection of Japanese whisky, with a long list of cocktails.

Our favorites:
Entrée: Prawn gyoza, soy, and ginger dressing
Mains: Lobster, Sancho pepper and Shiso butter
Dessert: Baked Alaska
BiBi
Our next culinary address is, in essence, a little slice of India right at the heart of Mayfair. Small, intimate, and exquisite beyond words, BiBi is the marriage of two cultures and the very best that each has to offer. The place seemingly comes alive at night, with those warm light cast over Rajasthani design and the reddish mango-wood interiors, as well as the sight and sound of the cooks working in the open kitchen, putting on a show for the clients. The bar, especially, feels like a traditional English element spiced up with an Indian flavor, where you can relish a bowl of kurkure with a Monsoon Martini or a dram of Macallan.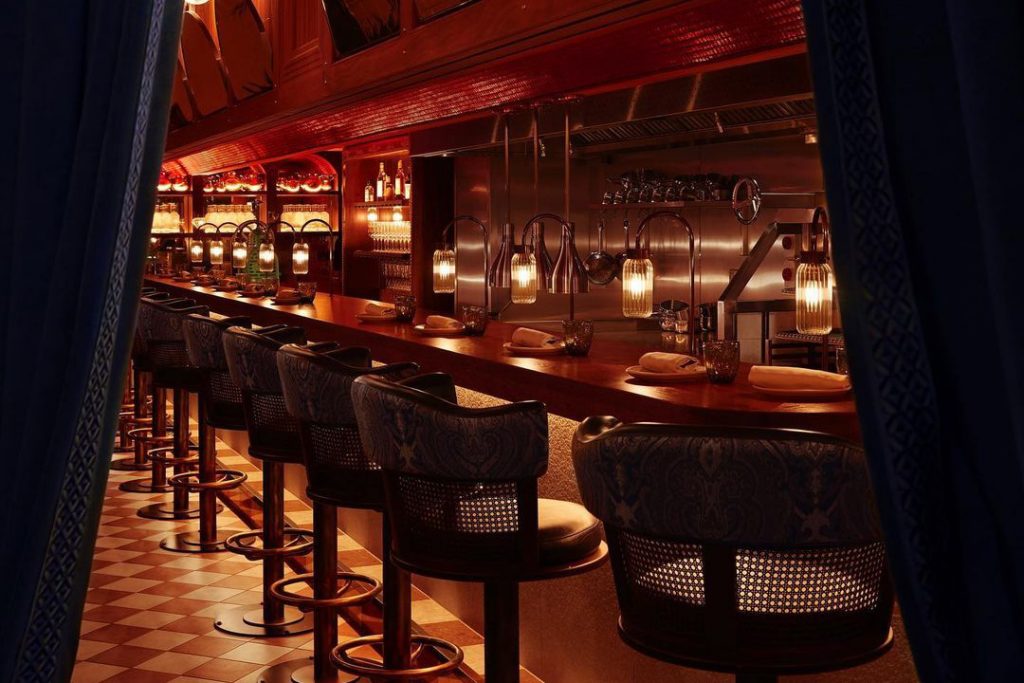 With a quiet and elegant atmosphere, BiBi allows you to truly immerse yourself in the culinary experience. The menu was designed by Chef Chettan Sharma, who spent years working with some of the most admired names in the industry, and presents to us a journey across Indian cuisine in five distinct stages.
here is pride in the heritage here, for the menu even illustrates the geographical origin of each produce, as if inviting the client to come explore a piece of India itself.

Our favorites:
Snacks: Malai Kofta Kebab
Chaat: Orkney Scallop Nimbu Pani
Sigree: Swaledale Lamb Belly Galouti
Sides: Roomali Roti
Dessert: Saffron and White Chocolate Kulfi
Roka Mayfair
And finally, coming full circle and showing just how varied Mayfair is, Roka is the complete antithesis of our first pick for this list. Minutes away from Oxford Street, the Japanese restaurant invites you into a peaceful and tranquil setting of wooden ceiling, exposed concrete walls, and, at the center of it all, the communal robata grill.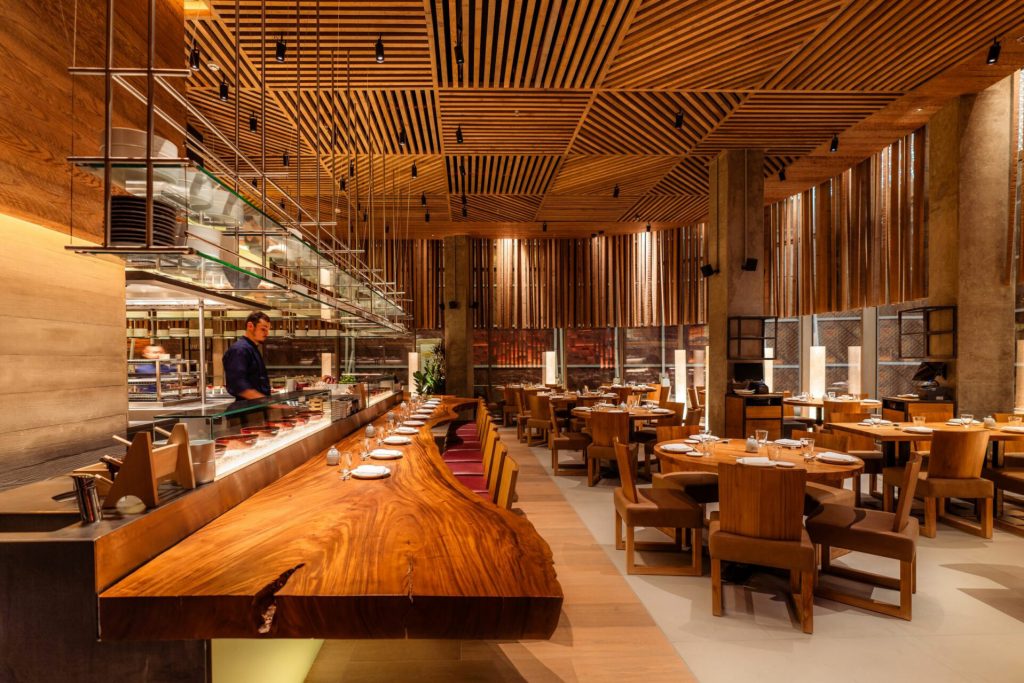 After picking up your cocktail – perhaps one of the most delicious you'll have in London – take your seat at the wooden counter, alone or with a friend, and spend the night marveling at the chefs in their pristine dark blue uniform, focused on creating the most exquisite meals, with the freshest of ingredients, right in front of you. The whole thing feels like a carefully choreographed dance, especially for the sushi and sashimi, where you can see each step of the preparation as the chef skillfully assemble the ingredients together, before arranging them on a bed of shaved iced, with a smidge of fresh wasabi and some pickled ginger.

Being inside Roka almost feels like being cut off from the rest of London, and stepping out into the busy Mayfair again, you will only be wondering about when your next trip will be.

Our favorites:
Entrée: Gindara to kani no gyoza (crab and black cod dumpling, with chili dressing, edamame, and spring onions)
Mains: Selection of sushi/sashimi or Robata dishes like the Tebasa to yaki (Chicken wings skewers), and Sake teriyaki (Salmon fillet teriyaki with sansho salt)
Dessert: Natsume no pudding no miso caramel (sticky toffee pudding with miso caramel, twig tea ice cream)
For more travel ideas and inspiration, stay tuned! To follow our team on their travels, follow us on Instagram.