To say that London is one of our favorite destinations would be an understatement. And one of the things we love the most about it is just the sheer multicultural nature of the place, because along with the people that have come from all over the world, came an array of recipes and flavors that are just waiting to be experienced and savored. And for us there's no better way of getting a good grasp of a destination than through food!
However, we, at Lartisien, like to do things a certain way!
So, for now, forget about the best chippie or the best pub to go to for a pint. This is our curated list of the restaurants that absolutely took our breath away, with their food, their décor, their atmosphere… and which we guarantee will do the same to you!
These are our 3 favorite restaurants in London! Dig in!
Above at HIDE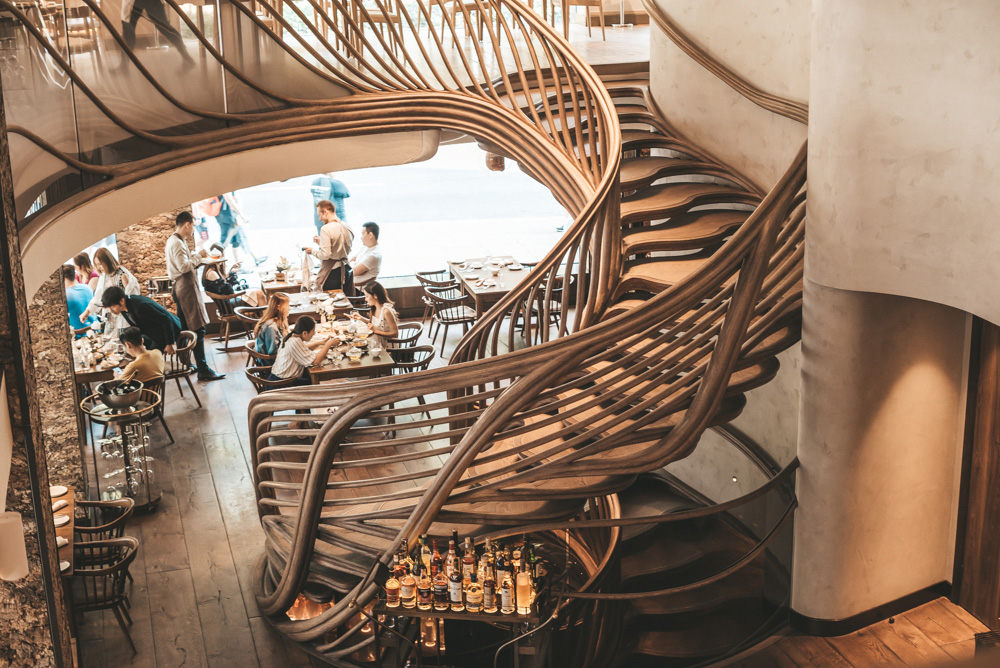 We begin our culinary exploration of London at an address that looks deceptively unassuming. Overlooking the tranquil Green Park, HIDE is a three-level gastronomic venture with interiors that transport you from your very first step inside. Though at first you might feel like you've entered the dining room of some well-maintained medieval home, with the overwhelming presence of wood and stone, it won't take long until you realize how contemporary the place is, emanating warmth and comfort, but also, undeniable elegance.
When you finally climb up the stairs to the Above restaurant, a sight of smooth wood basking in natural light beckons you to take a seat and relax, whilst the waiters move quietly around you, like will-o-the-wisps, pouring wines and bringing your orders.
The dishes, from a Michelin-starred menu by Chef Ollie Dabbous, are like work of arts; beautiful and refined, perfectly coordinated, making use of only the freshest produce that are locally sourced. The whole experience feels almost poetic, and is one of the few gastronomic meals you will have without any sense of guilt whatsoever.
Our favorites:
Entrée – Nest Egg
Mains – Roast Orkney Scallop, cauliflower & seaweed butter sauce
Desserts – Glazed doughnut parfait, Milky Blue oolong milkshake & blueberry compote
Ristorante Frescobaldi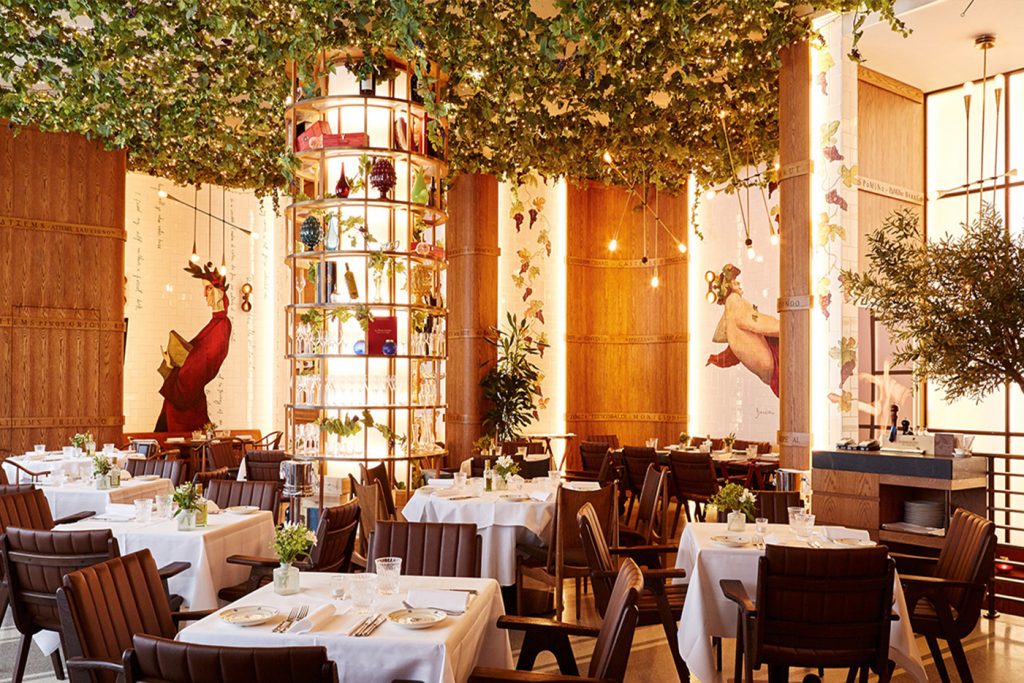 Next up, our journey takes us close to Regent Street and even closer to Italy. Ristorante Frescobaldi is the kind of address that connoisseurs would refer to as a "hidden gem". As the first standalone restaurant in the United Kingdom for the Frescobaldi family, the Ristorante almost doesn't want to call attention to itself, choosing instead to become a secret for those in the know to enjoy in peace and tranquility.
Trust us, it would be hard for you to not feel like Don Corleone hosting a lunch, when you're surrounded by your family and friends in such a gorgeous and intimate setting. Whether you're seated on those large, beautiful brown leather sofas, surrounded by the large windows and the beautiful murals, or outside on the terrace, the place exudes the Tuscan ambiance that has made the brand popular all around the world. And its cuisine, even more.
With fresh produce imported directly from Italy and an impressive wine cellar, the menu by Head Chef Paolo Parlanti is an ode to specific regions all over their homeland! More importantly, however, the menu is an homage to the 700-year-old Frescobaldi philosophy of honoring Tuscan traditions and recipes at all costs.
Our favorites:
Entrée – Beef fillet carpaccio with rocket and Parmigiano Reggiano 24 months aged and black truffle
Main – ​Bigoli Cacio e Pepe
Dessert – Classic Tiramisù
Louie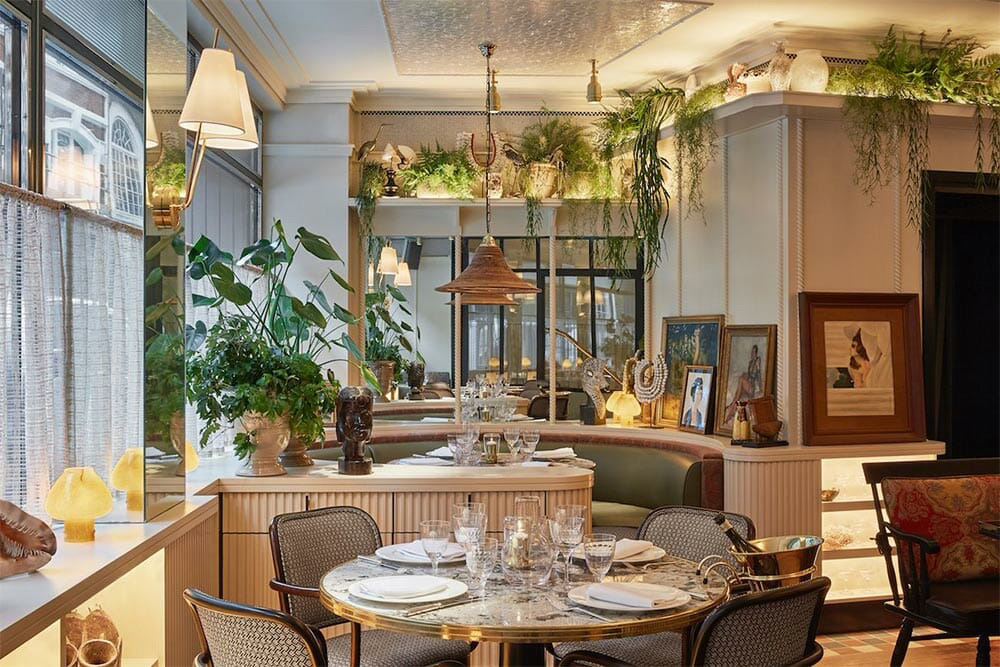 And finally, our last address is perhaps emblematic of what London is all about: the marriage of cultures. Located next to Covent Garden, Louie has been one of the hottest new spots since it opened in 2020, attracting a clientele that includes the likes of Princess Eugenie, Jason Momoa, and more. And it's not hard to see why!
Stepping inside the place, which once housed the iconic L'Atelier de Joël Robuchon, you will discover an elegant Franco-New Orleans décor, with a relaxed jazzy tune in the background, rows of houseplants hanging around, along with dark wicker chairs, wooden ceiling fans, and bamboo separators that you would immediately associate with a New Orleans setting. It's honestly quite discombobulating when you look outside the window and see London instead of the still waters of a bayou, with the occasional ripples of an alligator swimming by.
But anyway! The décor and the atmosphere, they've got it down. But what about the food, you ask? Worry not, for Chef Slade Rushing (who probably deserves the title of "Mamma" by now!) brought all his expertise of New Orleans cuisine to this London venture, and he delivers with flying colors. The food is refined, fresh, and exciting, introducing the palettes to a whole new spectrum of flavors, textures, and sensations that are complimented by the extensive wine options.
Our favorites:
Entrée – Louisiana Style Crab Cake
Mains – Chicken Bonne-Femme
Dessert – Southern Pecan Pie
For more restaurant showcases, stay tuned! We've got a lot more where that came from.
---