It's been a wonderful few weeks here at Grand Luxury. As you probably noticed from the teasers and behind-the-scenes exclusives on our Instagram, we've been busy with shooting documentary series for our YouTube channel, taking people to the heart and soul of our partner hotels and meeting the people who contribute to their magic.
Last week, we launched Deep Dive with a look at the world of pastry chef François Perret. This week, we take you on an adventure with The Visit – Hotel Eden, Rome. Discover a story of Italian hospitality and the painstaking renovation of a legendary landmark, and meet Luca Virgilio, the General Manager of Hotel Eden, and the person who was tasked with reinventing the hotel with a complete revamp, but keeping its illustrious history and heritage intact.
The Visit – Hotel Eden, Rome
It's been an icon of Italian hospitality for over a century, starting as a 3-storey mansion in 1889 and becoming a palace where everyone from King Alfonso XIII to Princess Maria of Bourbon stayed. This week, we follow our founders, Ivan and Rouslan Lartisien, to the depths of its story and meet the people working together to deliver the best hospitality in the Eternal City.
Meet Luca Virgilio, General Manager at Hotel Eden, Rome
GLH: Hello Luca. It's an absolute pleasure to be talking to you and without further ado, let's get right into it. Can you quickly introduce yourself and tell us about your story and career so far?
Luca Virgilio: I was born in Rome, to an English mother and an Italian father. I'm married to a wonderful woman, and I have an 8-year-old girl. My career path started when I graduated from the international school of hotel management, Les Roches, in Switzerland, and prior to joining Hotel Eden, I was the Area General Manager for Baglioni Hotel London and Baglioni Hotel Regina, Rome. Over the years, I also managed Hotel Metropole Monte-Carlo, Baglioni Hotel Carlton and the Four Seasons Hotel des Bergues in Geneva. In January 2014, I joined the Dorchester Collection as the General Manager of Hotel Eden, but wherever I've been, my focus has always been the guest. I strongly believe in the power of providing a guest-centric experience where everything is done with the guest in mind. I also love traveling, so for me, my job is not a pressure at all but a privilege.
GLH: When the original mansion built in 1889 was turned into a hotel, the Hotel Eden, the location was a gamble. Can you tell us more about that?
Luca Virgilio: The mansion was in a part of town that was not popular with travelers since the main entry point to the city was Via Flaminia, and that led to Piazza del Popolo where all travelers and their carriages arrived. Hotelier Francesco Nistelweck thought that the introduction of trains would soon change this as it becomes the transportation of choice for the wealthy. He thought that Hotel Eden would then represent the perfect location, sitting just between the Termini train station and the city center. This is what happened. The whole axis of the city shifted more towards this part of town, which soon became the most sought-after area to live and be.
GLH: What were your main challenges when you arrived at Hotel Eden as General Manager?
Luca Virgilio: When I arrived here, the biggest challenge was to reimagine and reinvent the hotel with a full renovation, but understanding what Hotel Eden was all about and what its long and illustrious history represents. It was important to protect that heritage while at the same time elevating the hotel to bring it into today's world.
I had to live here for a bit, to truly understand what made it so unique and work on how we could make this uniqueness even better while also addressing any shortcomings and what was missing.
GLH: How important is a hotel's gastronomy to you, and is it a challenge to find the right chef?
Luca Virgilio: Gastronomy is a very important part of any hotel experience, and more so in Italy because we are known all over the world for our cuisine… I always think of a hotel as a small village, and you need to make sure guests have the opportunity to enjoy every aspect of the village, be it a lovely cappuccino over breakfast, a fantastic cacio e pepe for lunch, an afternoon tea by a fireplace or a drink at sunset followed by a romantic dinner in a fine-dining restaurant. In all these aspects, an excellent chef is essential, and finding the right chef is not always easy. Personally, what I feel is important (talent aside of course) is to understand the guest and what the guest expects and desires. Too often, you see chefs feel that they are more important than their patrons, and they "decide" on their behalf. We are very fortunate to have found Fabio Ciervo as he is not only extremely talented but also a great listener and loves to evolve with the trends and demands of the market. Of course, he has his own, very distinctive style, and his own principles that, rightfully, he would not compromise, but he evolves continuously to make sure he keeps relevant to the times.
GLH: If you had to select a favorite dish at the hotel, what would it be?
Luca Virgilio: Without a doubt, the warm sea urchin cream with curry and black pepper from our Michelin-starred restaurant, La Terrazza.
GLH: You got the idea to occasionally turn La Libreria into a private cinema; Where did you get that inspiration from?
Luca Virgilio: It came during a brainstorming session with our Creative Director and it proved to be a super success from Day 1. Part of the appeal is that it's not a true movie theatre (as many hotels have), but we transform our Libreria lounge bar into a cozy, intimate place that we call Piccolo Cinema Eden. So you still have the lavish and comfortable furniture, the living room feel with the fireplace, but at the same time, you have a big screen and a surround sound system. There is also the 5-star service. It's an elevated movie experience… We wanted to bring back the magic and the charm that it once was to go to the movies; That used to be a true occasion for people and families.
Piccolo Cinema Eden also opened its doors with "La Dolce Vita", celebrating 60 years of the classic, and the centenary of its director who loved the top floor of Hotel Eden. Indeed, Federico Fellini used to hold interviews sitting in front of the enchanting view of Rome, rendering Hotel Eden famous all over the world.
GLH: Hospitality is constantly evolving, how do you manage to stay relevant and to always keep the hotel attractive?
Luca Virgilio: Like I mentioned, the Creative Director helps us with that. He helps us understand trends, and we work closely with him to create experiences that make us stand out. What's important is to not always look at the hospitality industry but also the other luxury industries where, often, there is plenty of inspiration to be found. We also put together a whole team dedicated to understanding our guests and their emotional needs, and based on these, we try to tailor bespoke experiences.
GLH: And finally Luca, do you feel the Grand Luxury video entitled "The Visit – Hotel Eden Rome" is an accurate reflection of the heart and soul of Hotel Eden ?
Luca Virgilio: I feel it really is, and for this, I am thankful, and of course I invite everyone to come and stay with us, and experience it all first hand.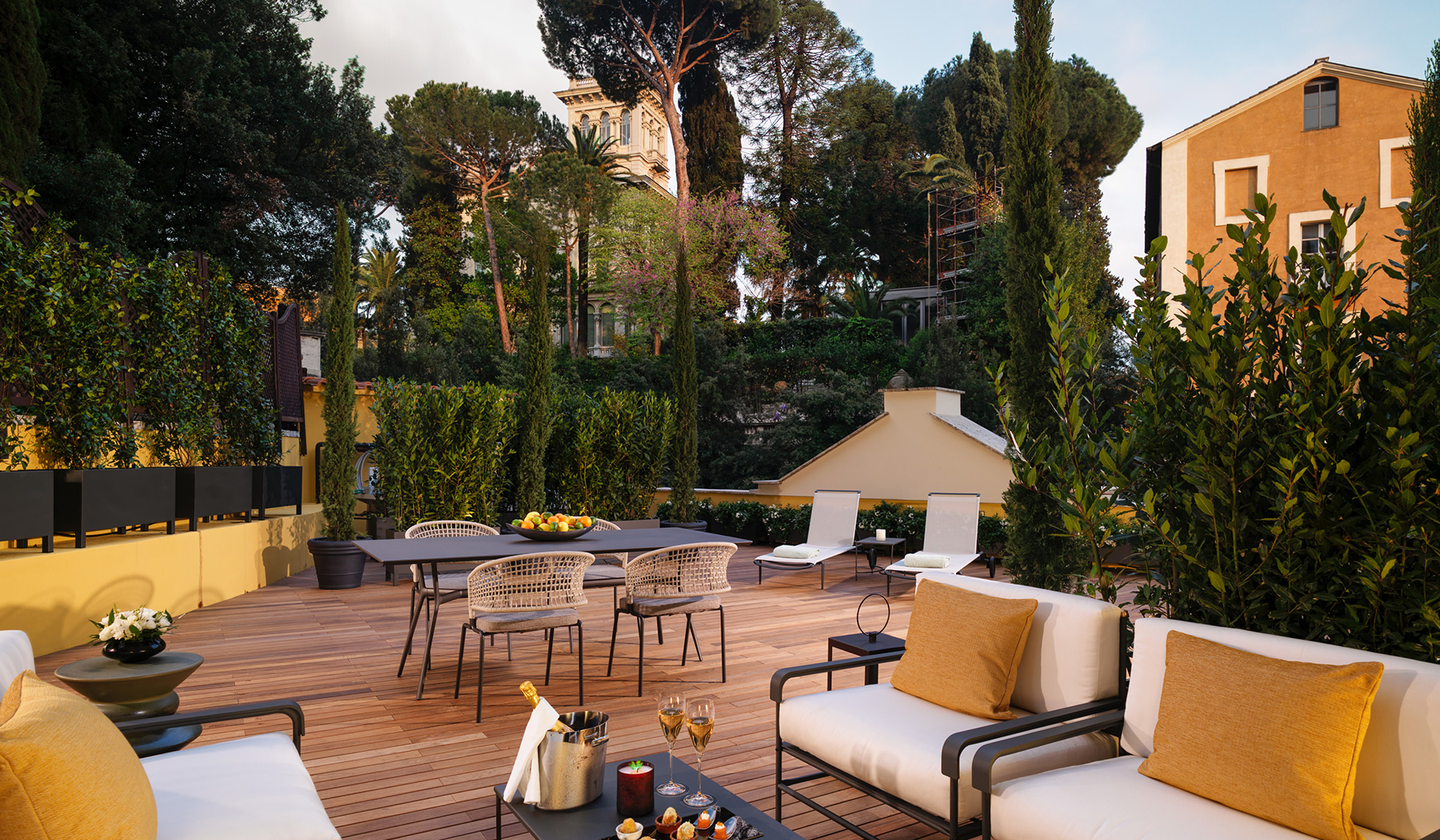 For more exclusive videos and interviews, stay tuned to our Instagram page and YouTube channel.