This time of year, your regular beachfront or city vacation stops are most likely crowded with business magnates and post-holiday shoppers alike. If you're looking for an escape from all the hubbub, we have the perfect restful destination ideas for you. It's an opportunity to take a break from all the hustle and bustle of your day to day lifestyles and retreat into an enchanting cocoon of nature. Just imagine intimate candlelight dinners under the stars, glimpses of tigers roaming around during a safari, or elephants hanging out right by your poolside. In case you're considering venturing on a nature getaway this year, we're here to make sure your choice of rest is the best of the best. Here's the lowdown on some of the most beautiful nature and wildlife resorts in our collection that you can explore.
Aman-i-Khás, India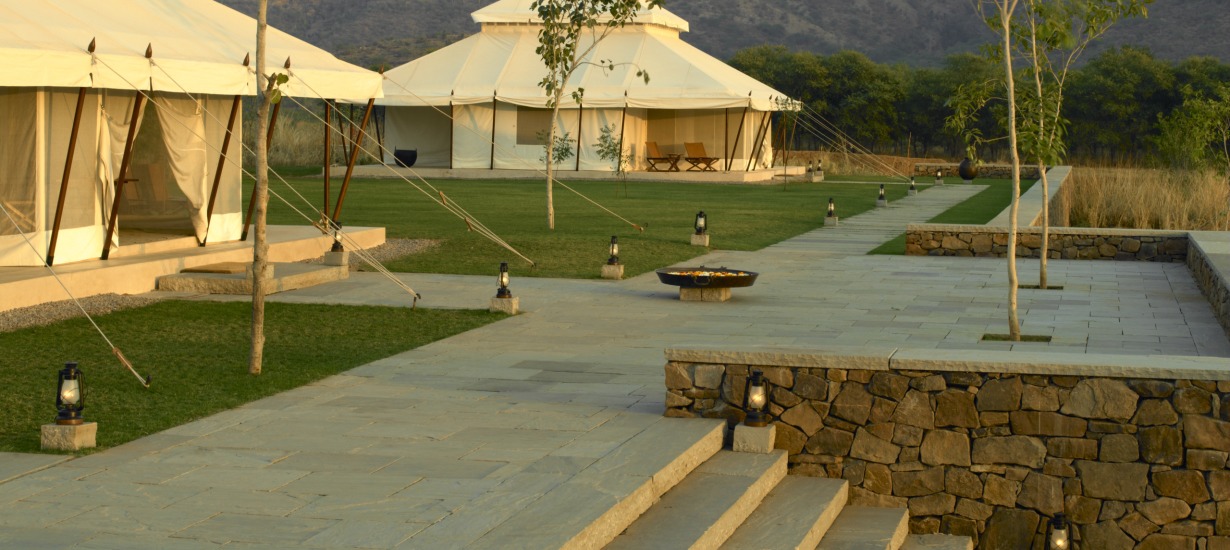 The Aman-i-Khás is a serene tented camp escape set on the fringes of the Ranthambore National Park, home to tigers, leopards, antelopes, and gazelles. The resort serves a unique mix of nature and Mughal ruins, making it a full-on outdoor holiday stop. There are just 10 tents, all of course filled with goodies that live up to Aman's signature pampering, giving a whole new meaning to luxury camping. At first glance, the 20-foot tents scattered around look like they've been set up for a glamorous party. You'd never believe that on the inside, they are air-conditioned, with a generous living area, bathroom, dressing room, with an oversized hot tub being the centerpiece. Just a few feet away, the Ranthambore National Park, the domain of the majestic Bengal tiger, and many more creatures of wildlife await to be explored. Twice a day, the Jeep Safari rides into the reserve promise glimpses of a myriad of wildlife encounters. Keep your eyes open and your cameras on standby, you'll want to get a shot of the Bengali tiger in all its glory. Each tent is assigned an experienced batman to accompany guests into the jungle, along the River Chambal, and to cultural sites. If you'd rather stay back at the camp, spa therapies, swimming, and dining take center stage. At night, gather around the fire pit and enjoy a drink under the stars while being serenaded by traditional singers and dancers.
Four Seasons Tented Camp Golden Triangle, Thailand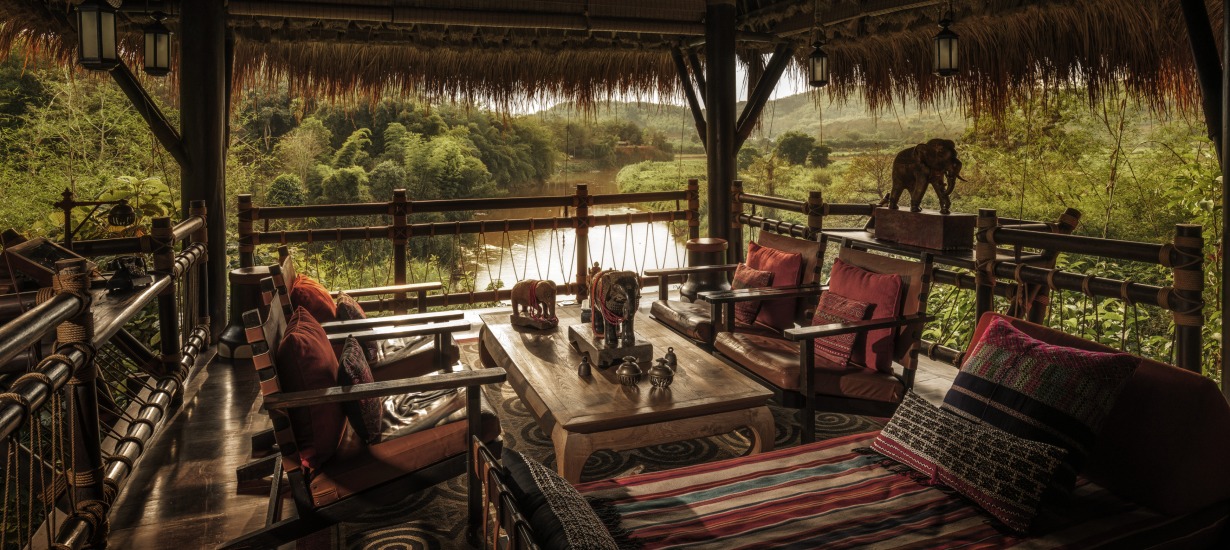 There is no place in the world like the Four Seasons Tented Camp Golden Triangle. From the unforgettable arrival by boat to the hotel's dreamy jungle set up, this place definitely ticks all the boxes for nature lovers and enthusiasts. The camp has 15 tents all done in a 19th-century explorers style, with handcrafted furnishings and hardwood floors. The tents don't have televisions, but you'd wonder why you would even need one. The outdoor deck with its private wooden hot tub has a view that you won't be able to resist. There's a seamless blend of serenity and adventure in every part of this hotel. You'll find yourself waking up to the sound of birdsong, while thoughts of an activity-filled trip to meet the hotel's rehabilitated elephants' border on your mind. Yes, you read right! The hotel's very own mahout will guide you into the wilderness to meet and engage with these magnificent creatures, and you can end the day with a candlelit dinner at the elephant camp, while traditional musicians play Thai folk songs to enhance the already mesmerizing experience. There are a host of other adventures and excursions you can participate in, but if you'd much rather be pampered back at the camp, then the spa has got you covered. If you'd like, you can enjoy spa treatments from the comfort of your tent, sometimes at night under the stars.
Capella Ubud, Bali
The Capella Ubud may very well be the most magical and romantic tented retreat there is. The hotel is designed by Bill Bensley in an African style jungle camp setting and was inspired by the early European settlers from the 1800s. It's tucked away in secluded Kelikili Valley and if you don't look out for it, the hotel could very well easily be missed but for the dark pitched tent roofs that give it away. The camp has 22 one-bedroom tents and a single two-bedroom lodge, filled with matching knick-knacks and antiques that will fascinate you. You'll find the accommodations either in the rain forest or overhanging the sacred River Wos. While you're there, the hotel has several on-site activities organized like nature walks, cycling, visits to ancient temples, glamping and so much more. It's up to you to decide what activities would help make a stay here one you'd like to repeat. While you're here, there's no better way to relax and blow off steam than spending time at the Auriga Spa. The spa is an oasis and offers bespoke treatments to guests using techniques and treatments drawn from Bali's rich wellness tradition. Amidst all the rest and rejuvenation, we can't forget to mention that the hotel has four restaurants that add unexpected twists to traditional flavors to create five-star meals. Whether you're visiting a temple or cuddled up by the campfire watching a classic, this hotel's sense of place will envelop you, and you will never want to leave.
Datai Langkawi, Malaysia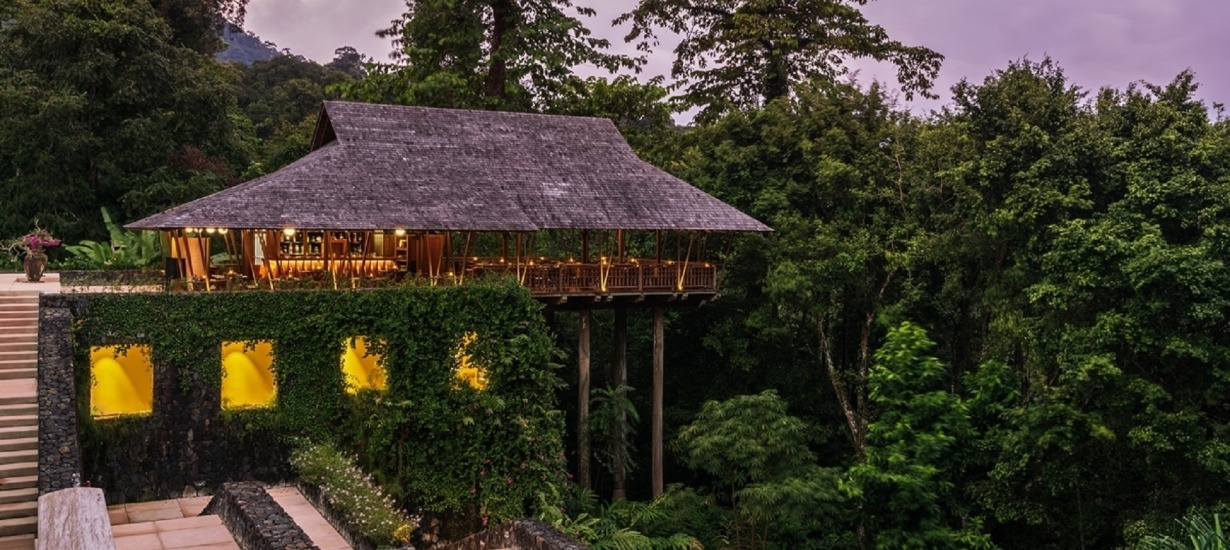 It's hard not to fall in love with this hotel. It's sat on a 46-acre site that is enveloped between the most perfect crescent of white sand you'll ever see and on the other side, a 10 million-year-old virgin rainforest. For a unique experience, kayak from the hotel through the rainforest and you'll be welcomed by the clear azure waters of the beachfront. It's everything you'd want in a nature getaway, and a haven for nature lovers who still crave a feel of the contemporary. Even with its far-flung location, there is a strong sense of modernity to ensure you don't feel completely disconnected from the world. The rooms have the feel of chic log cabins and are equipped with every amenity you would need, with exceptional rainforest or beach views. You will be delighted by daily wildlife sightings everyday, flying lemurs, playful leaf monkeys, great hornbill birds and hundreds of butterfly species call The Datai Langkawi home, and sharing their habitat is an immense privilege.
Belmond Hotel das Cataratas, Brazil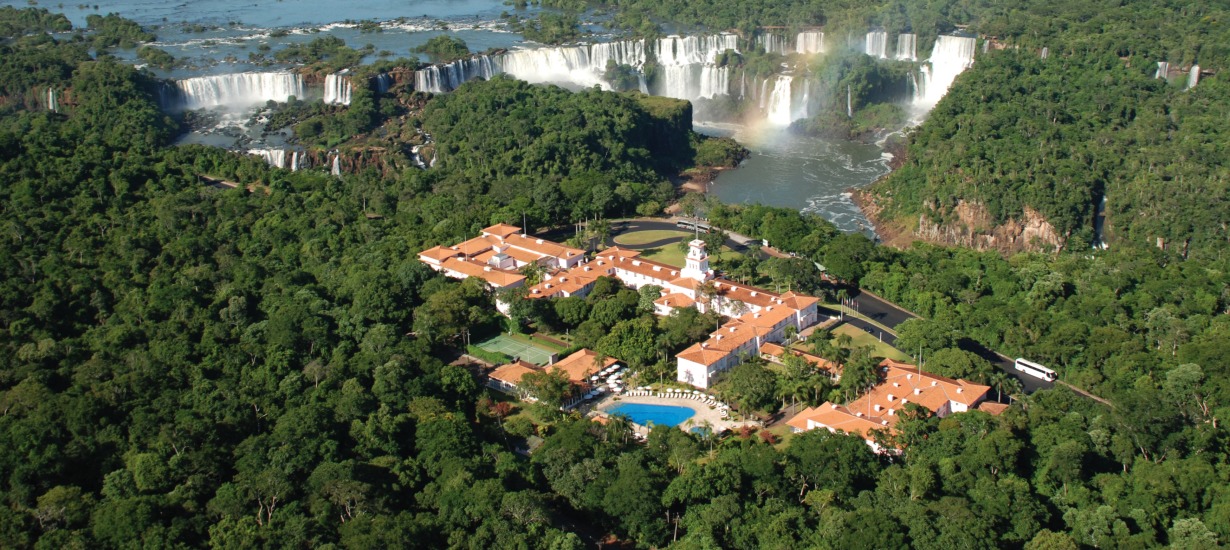 The Belmond Hotel das Cataratas is one of the seven wonders of the world in our books. Surrounded by lush rain forests and close to the magical Iguassu falls, this hotel has all the flair and edge that nature travel dreams are made of. It's the only hotel located inside the Iguaçu National Park, which is a UNESCO Heritage Site. With 203 rooms it's a wonder how the hotel manages to keep its private and secluded demeanor. While visitors enter via tour buses and are restricted to a time frame, staying here gives you direct access from the lobby to the falls in under 30 seconds. It feels like walking into your private garden, and taking in the huge water fountain you splurged millions on. While you're here, it's easy to get lost in the beauty of it all that you'd forget to indulge in all the pampering and spoiling the hotel has to offer. Head on to the Cataratas Spa, for a real treat. The spa uses ingredients harvested from the rain forest, and treatments and massages here will leave you feeling brand new.
For more travel inspiration and information, stay tuned!